Photo by Jerod Harris/Getty Images for NAMM
The Grand Rally for Music Education on Saturday, January 18, at The 2020 NAMM Show was so special that it made you feel like you were participating in a magical experience that somehow took you on a journey through the past, present and future of music making.
The signature event of The NAMM Foundation welcomed a standing-room only crowd and featured an intimate performance with innovative vocalist and instrumentalist Bobby McFerrin, with additional performances by The Langley Ukulele Ensemble under the direction of Paul Luongo, The Legacy Ukulele Ensemble under the direction of Peter Luongo and a very talented group of college students, UCLA's ScatterTones, winners of the A Cappella at NAMM contest.
Pre-show Performances
The pre-show entertainment delighted attendees. According to music educator Anne Fennell, the pre-show performances were joyful.
"Brilliant opening," she said, describing the Legacy Ukulele Ensemble performance on Twitter.
The performance by ScatterTones, the winners of the A Cappella at NAMM contest, was also met with a standing ovation.
"The Scattertones are killing it!" said Rob Dietz, a multiple CARA winning producer who has been arranging, performing, and teaching contemporary a cappella music for over fifteen years. Dietz has collaborated with Pentatonix and was a judge for A Cappella at NAMM.
The Grand Rally for Music Education
The NAMM Foundation's annual salute to music education welcomed NAMM members, music educators, college music students and faculty all together to celebrate the benefits of music education, and things got serious for a short time as Executive Director of The NAMM Foundation Mary Luehrsen raised a strong call to action for attendees to "Be Part of The NAMM Foundation."
As she broke down just exactly that means, "When we say that… in essence we mean do something; it's a call to participate; a call to be engaged; a call to help music making be available to people of all ages and abilities." Luehrsen continued, "And honestly, because you are here—you have responded to that call. But what else can you do?"
Luehrsen went on to describe ways for attendees to get involved in music education advocacy, including making a donation to the Believe in Music Fund to support a new initiative for 2020—Music Education at the Border, an El Sistema-inspired outreach program launching this year in Tornillo, Tx—which received a standing ovation.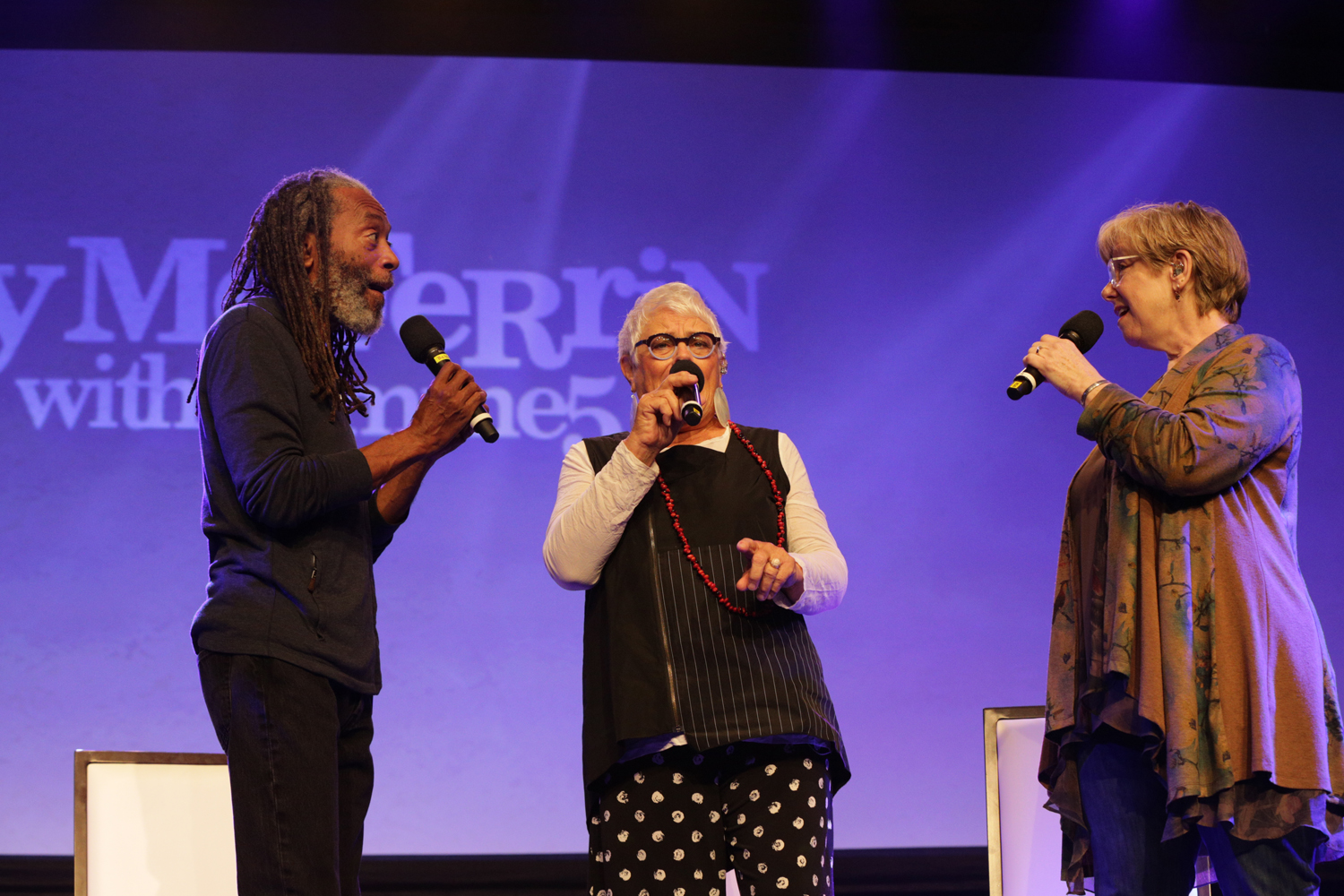 The Grand Rally continued with a thirty-minute performance by improvisational genius, Bobby McFerrin, with Gimme5. McFerrin warmed up the crowd by making sounds and seeing what resonated. He could tell by what was echoed back to him on stage. Indeed, it was clear from the outset that McFerrin and Gimme5 expected this to be a musical conversation between performers and audience.
Throughout the performance, the audience was encouraged to sing along. People stood together and formed a joyous and spontaneous wave of music that carried throughout the venue. No doubt McFerrin inspired a new generation of a cappella singers as the crowd sang and swayed along with the a cappella beat.
"Bobby McFerrin and Gimme5! Fun, funny, fresh camaraderie, creativity, and joy!" said Holly MacDonell on Twitter. "How refreshing to hear musicians that care about the music, rather than an image."
Attendees walked away from the action-packed, informative and highly entertaining event feeling uplifted, connected and ready to spread the magic they experienced with their friends and colleagues. With smiles on their faces and free posters of McFerrin in their hands, Grand Rally attendees left the event feeling connected by sharing in a very special and unique experience that was probably hard to explain, because, well, you had to be there.
The Grand Rally for Music Education was hosted by the Executive Director of The NAMM Foundation, Mary Luehrsen.
Photography by NAMM Staff.