Eric Whitacre's Virtual Choir 6 Unites in a Time of Crisis and Isolation
Hosted by Mary Luehrsen, executive director of The NAMM Foundation.
This podcast is a 35-minute listen.
Subscribe to Talking Up Music Education
Where to subscribe: iTunes | Stitcher | Spotify
About This Episode
Talking Up Music Education is a podcast from The NAMM Foundation that shares news and stories about music education. This week we're highlighting episode 94, featuring composer Eric Whitacre.
In this episode Whitacre discusses his inspiration to write Virtual Choir 6's Sing Gently- a new piece shared during a time of crisis and isolation. Sing Gently features 17,572 singers from 129 countries. Watch the video below.
"Sing Gently is a metaphor for a way to live and to interact with others," said Whitacre. "I find there's a strangeness now. You walk down the street, and everybody, in a way, is a potential threat. My hope is that by writing the lyrics and the music in a very gentle and delicate way is to just meditate on these ideas of compassion and empathy and community."
Soundbites
"I can't imagine a more important time for music than right now. It somehow crosses that great divide of loneliness, and genuinely connects us to others. I have no idea how it works, but I'm so grateful that we all have this gift in our life." – Eric Whitacre
"I think music has the ability to give meaning to unknown questions [during COVID-19], and at the very least, re-center us into our essential humanity." – Eric Whitacre
"I know from experience with other virtual choirs that there's not a lot of need to adorn it with fireworks. It's something about having thousands of people singing together. It comes with its own force. And so the music needs to be as clear and simple as possible." – Eric Whitacre
"The glory of singing in choirs—it's all the voices blended together, and it's the aggregate of all those voices that make it something truly special. When the video finally comes together, that's when you hear the magic happen." – Eric Whitacre
Tell us what you think about this episode! Email us at info@nammfoundation.com and follow Mary Luehrsen on Twitter: @MaryLNAMM.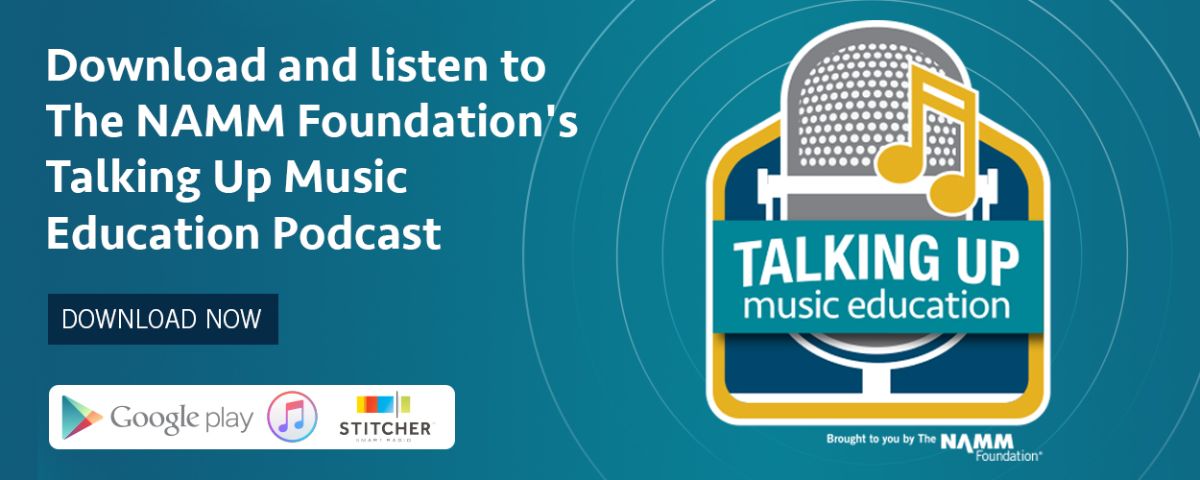 About
Talking Up Music Education is a podcast produced by The NAMM Foundation about music education. Host Mary Luehrsen chats with teachers, parents, students and community leaders who share stories about what they are doing to create music learning opportunities. Please download, share and subscribe to keep up with the stories that make a difference in music education advocacy.
Related Podcasts
Music Educator Anne Fennell on Co-creating Music with Independent Learners
Music Haven's Mandi Jackson Chats Virtual Learning for Connecticut Music Students