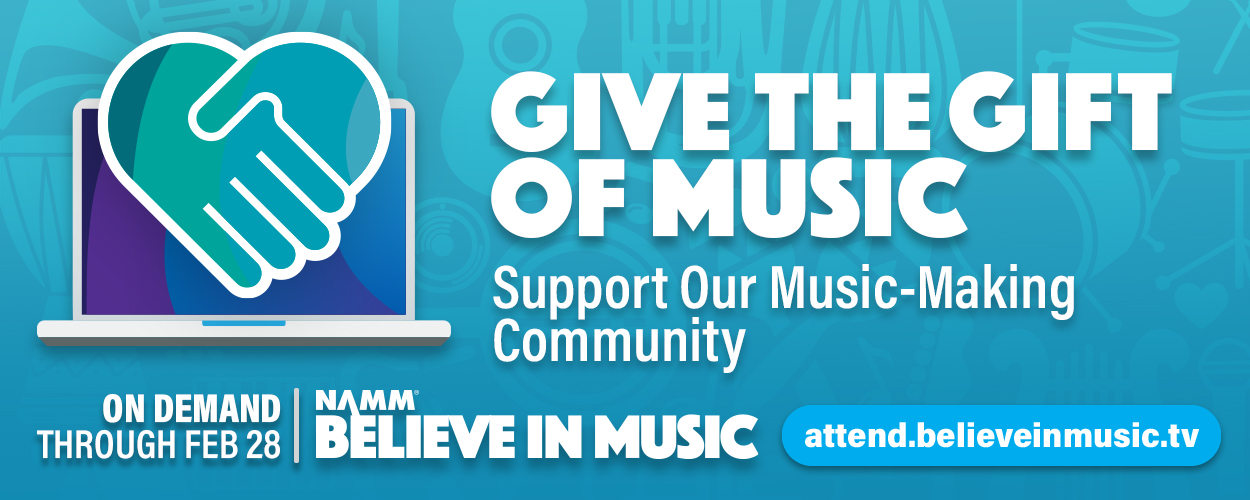 As part of NAMM's Believe in Music week (January 18-22), the online global gathering to unite and support the people who bring music to the world, industry leaders are announcing a matching donation program to benefit twelve organizations that work to advance music learning for people of all ages and abilities. Beginning today and on the Believe in Music platform, attendees will be able to donate to any of the twelve beneficiary organizations. Each donation will be matched dollar for dollar by generous supporters up to a cumulative amount of $10,000 per organization.
The idea for the matching campaign was conceived and led by NAMM Chair and CEO of Martin Guitars, Chris Martin. After witnessing the devastating impact of COVID-19 across the industry, Chris and Diane Martin wanted to offer relief for music-making organizations and professionals. This awareness, vision, and passion for helping fellow industry members led to the couple making a personal donation of $100,000 to kick-off the giveback campaign and calling on others within the industry to encourage support for the matching program.
"I am so proud as NAMM Chairman to be able to lead by example by giving back," shares Martin. "As you may have heard, the guitar business is pretty good despite the ongoing challenges of the pandemic. While some of us are doing ok, other members of our association and the communities they serve continue to struggle. I am confident that The NAMM Foundation will quickly disperse the money we raise during Believe In Music week to those in need, and I hope you will join me by giving generously to this important initiative."
Other leaders who have answered the call to donate include Chris Lombardi, Drum Workshop; Joel Menchey, Menchey Music Service; Tom Sumner, Yamaha; Chuck Surack, Sweetwater; Chris White, White House of Music; and Andy Zildjian, Sabian.
"Believe in Music is centered in supporting the people who bring music to the world, and with that, recognizing the shared commitment we have as an industry to support the vital role music plays in our lives and our societies," affirms Joe Lamond, NAMM President and CEO. "Helping these frontline organizations keep music alive and accessible would not be possible without the generosity of our industry's leadership."
During Believe in Music week, a special "Meet the Believe in Music Donation Partner" session will be held on January 19 at 10:00 a.m. It will feature each of the organizations as they share details of their important work. Beneficiary organizations include Believe in Music Fund; Chorus America; College Band Directors National Association; College Music Society (CMS); Country Music Association Foundation; D'Addario Foundation; Gibson Gives; HBCU National Band Directors' Consortium; Music for All; National Association for Music Education (NAfME); Show Makers; and others.
"Through the transformative work of these organizations, thousands of people will discover or advance their love and desires for making music at a time when music is desperately needed," said Mary Luehrsen, Executive Director of The NAMM Foundation. "The tremendous support for these programs will help to continue to keep music alive."
In addition to the opportunity to give, Believe in Music week will feature a variety of special events and concerts, a Marketplace to experience the latest in new products and technologies, nearly 200 professional development and training sessions for all sectors of the music products, pro audio and entertainment technology industries, and NAMM Foundation education for music educators and administrators, nonprofit professionals and college-aged students and faculty, among others. Visit https://attend.believeinmusic.tv to review the schedule of events and register to attend. Registration is required to donate to the organizations below.
Official Hashtag: #BelieveinMusic