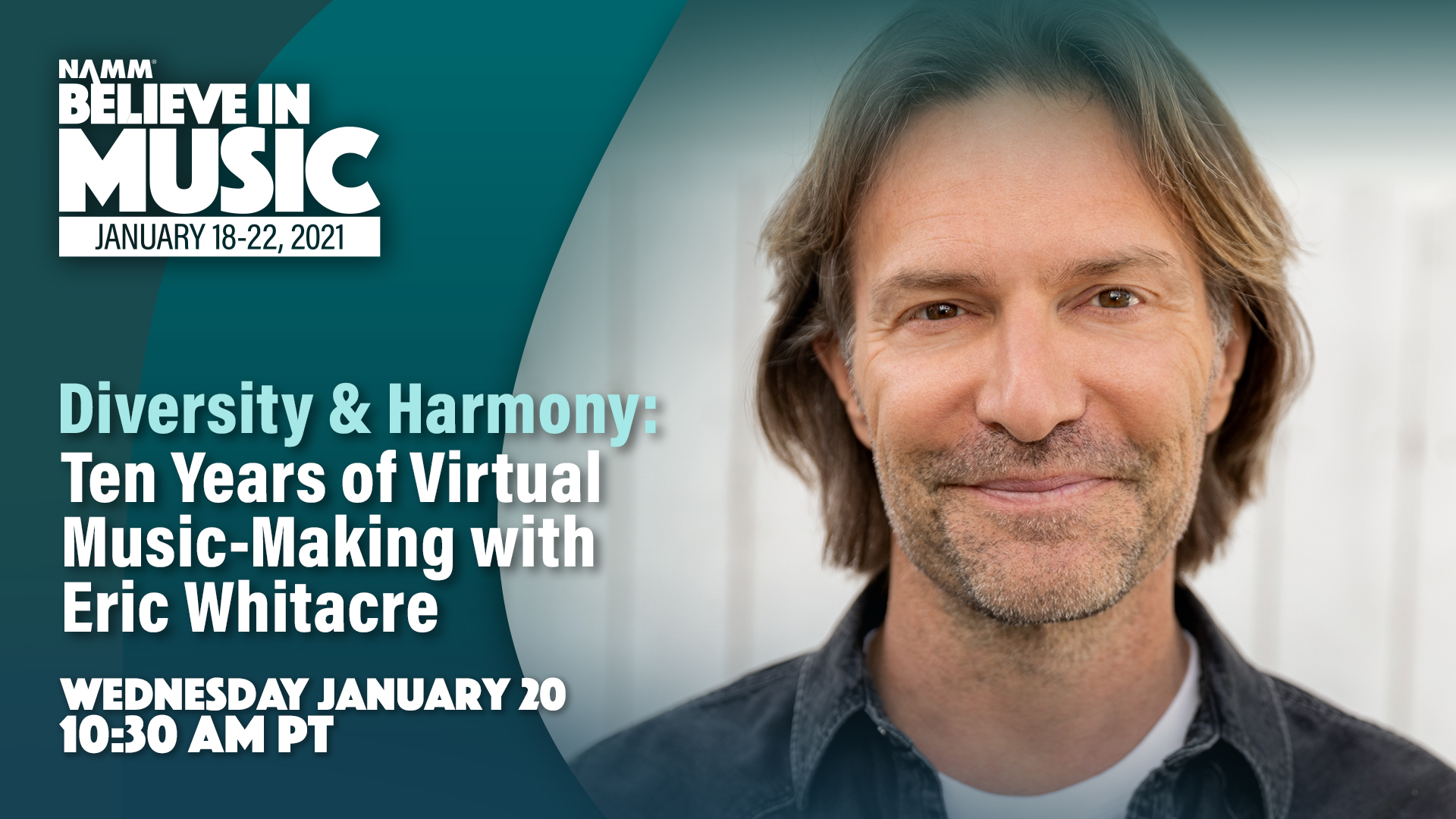 On Jan. 20, Grammy Award-winning composer and pioneer of the Virtual Choir Eric Whitacre joined NAMM Foundation executive director Mary Luehrsen for a conversation about virtual music-making, its role during Covid-19 and in the years ahead.
To watch or replay this special event, "Diversity & Harmony: Ten Years of Virtual Music-Making with Eric Whitacre," register for Believe in Music Week. This session will be available on demand until Feb. 28.
"There is a beautiful dance between technology and music where one influences the other," said Whitacre, "We are in the middle of a golden era of that kind of thing right now."
The conversation took place during Believe in Music Week, Jan. 18-22, a global gathering to unify and support the people who bring music to the world.
In 2010, Whitacre published his first Virtual Choir and then in 2020, as the world struggled with a global pandemic and humankind reviewed its respect and responsibility for one another and our planet, an extraordinarily diverse group of people – more than 17,500 singers from 129 countries - came together to sing as one in Eric Whitacre's Virtual Choir 6.
"We are…beings who desperately want to find and connect with each other," said Whitacre. "We will do whatever it takes to make that happen."
The lyrics and music for "Sing Gently," were written by Whitacre under lockdown and all of the singers recorded their performance videos, submitting them to be joined together into a global choir. During the Believe in Music event, Whitacre discussed the depth of these projects, proliferation of new productions in 2020 and the role of technology in the future.
"Technology tells us who we want to be, and music tells us who we are," said Whitacre.
Eric Whitacre's Virtual Choir 6 is in collaboration with The NAMM Foundation and Colburn School.