As a NAMM President's Innovation Award recipient, Tiana Thakur attended The NAMM Show in Anaheim in 2019, where she was able to learn about and connect with the industry firsthand. We followed up with Thakur- a Western Illinois University alum now working in the music industry- to discuss her experiences at The NAMM Show. Read our Q&A with her:
Q: You have graduated and are now working in the music industry. What is the value of attending the show as a college music student?
By attending the NAMM show in my undergraduate degree, I gained so many tools, connections, and experienced a multitude of valuable moments that shaped the way that I viewed the industry. While meeting artists that I adored, playing top brand instruments, and experimenting with new equipment, I spent a lot of my time connecting with other peers, companies, and attending seminars. Learning first hand from renowned professionals gave me a much wider grasp on how to make it in the music industry.
Because I did this in the middle of my college career, I was able to have real world experience that sculpted the way I handled my professional endeavours and musical career. The NAMM show is one of the best places to find like minded people who are passionate and willing to share their experience and knowledge. Attending the show allows you to experience what the industry is all about, while also creating real relationships between companies, artists, colleagues, and so much more.
Q: What is the importance of networking at the show?
Networking is one of the most important tools we can use to further ourselves in our careers, especially in the music industry. At NAMM, you have virtually infinite possibilities to create connections. Meeting artists, interacting with companies, collaborating with other students and attendees of the show can and will help you move toward your musical and business goals.
The opportunities to further your growth and learn at the NAMM show are endless, and taking the time to communicate with an artist you love, a company you buy from, or getting to know new independent companies can branch into things like sponsorships, internships, collaborations, and more. It is so valuable to put yourself and your art out there for people to see, because NAMM is the perfect place to network and establish connections.
Q: Describe how attending education sessions at the show can steer you in the right direction career-wise.
Attending the sessions at the show gave me an opportunity to interact with highly respected and well-rounded educators at a more intimate setting. Getting the opportunity to ask questions and hear what other students had to ask was a really valuable experience and I learned a lot just from listening to the presentations all of the panelists had to say. Many of the panelists live the same lives that we are currently experiencing, and the intel that I received gave me hope for my career, while also shaping what route I would need to pursue to accomplish my future goals.
These sessions are meant to help and further your musical path whether it is a journey into education, performance, or anything else that the industry has to offer. I know that after the show, my execution of business and preparing for my career drastically changed for the better.
Q: Was there anything that you learned at the show that you didn't expect to? What were highlights for you?
I received so much knowledge while attending The NAMM show. One of my biggest takeaways was learning that everyone in the industry had to start somewhere. Something that people don't understand sometimes is the amount of work everyone has to put into their craft in order to become successful. It was so humbling to hear people who are so well known have a beginning to their stories, just like I do. The information that songwriters and educators expelled over the few days that I was there really changed my perspective and gave me so much to look forward to and pursue on my path.
I really enjoyed getting to hear Victor Wooten speak about his philosophy for teaching, being within three feet of GhostNote (one of my favorite bands), and getting to play on some of the most beautiful instruments that I have ever laid eyes on. The NAMM show truly had a moving effect on me, and further fueled my passion and commitment toward the music industry.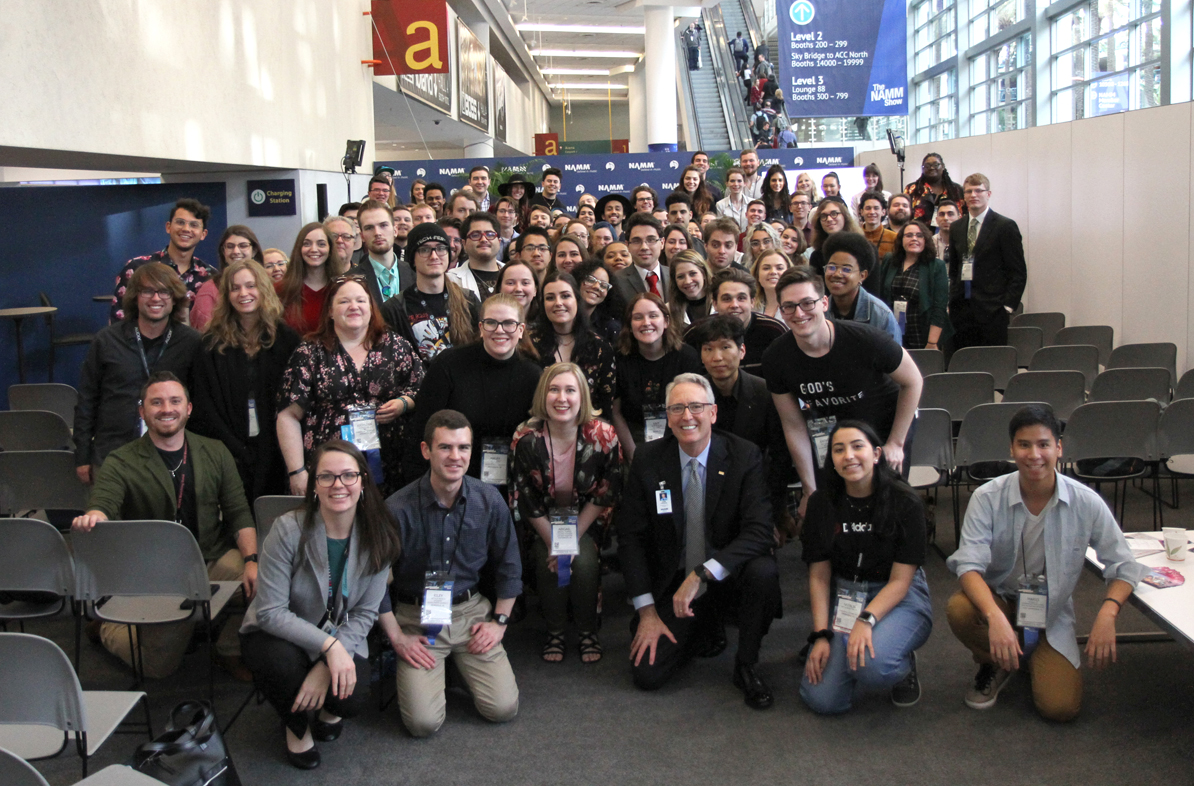 The NAMM President's Innovation Award honors college students who demonstrate excellence in the field of music and who are interested in pursuing a career in the music industry. Learn more.